Desktop or Wall Mounted Air, Hand & Small Object Sanitiser
Unit Dimensions:
W 412mm x 240mm x 182mm
Air flow sanitisation function with preset timer from 1 to 12 hours
Inbuilt tray for masks, mobiles & small objects
Auto-detect switch on/off for hands & objects
Lamp Lifespan: 10,000 Hours
Voltage: 12V, 120-240V AC Adapter
Low maintenance
No chemicals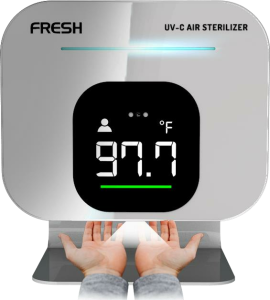 (In Development) FRESH F1
UV-C Air, IR Temperature and Touchless Hand Sanitising Dispenser.
Unit Dimensions:
W 360mm x H 290mm x D 115mm
Three blocked Air Chamber Tunnel system to store contaminated air longer and kill COVID viruses and all other harmful germs instantly by powerful UV-C light in triple S shape tunnels.
Contactless automatic IR Temperature Detector / approaching Hand Palm.
High tech NDIR sensing module (Clock at standby mode)
Touchless Hand Sanitiser spray dispenser.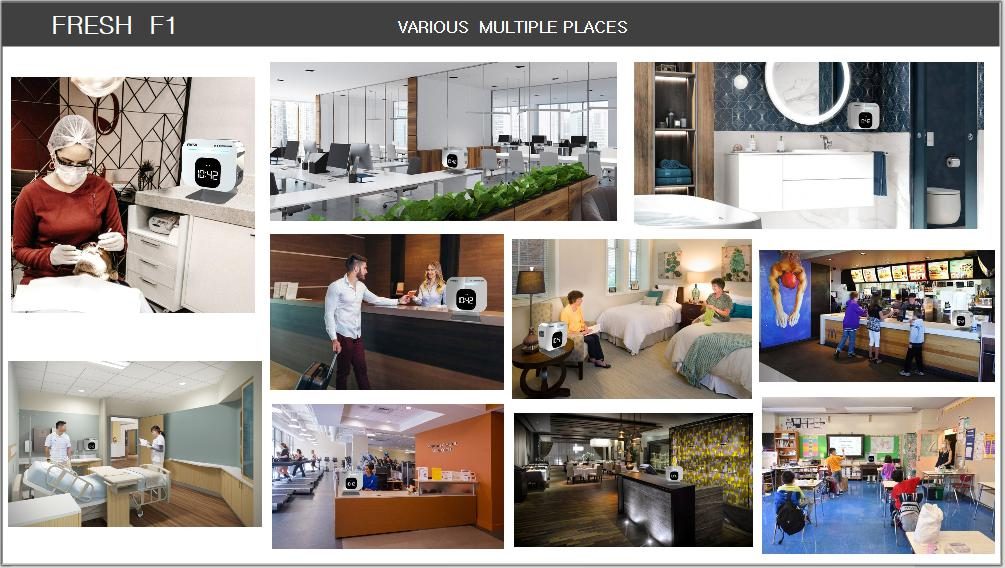 (In Development) - HANDY QUE
Desktop Hand & Small Object Sanitiser
Unit Dimensions:
W 360mm x H 220mm x D180mm
Auto-detect switch on/off for hands
Optional Inbuilt tray for masks, mobiles & small objects
Lamp Lifespan: 10,000 Hours
Voltage: 12V, 120-240V AC Adapter
Low maintenance
No chemicals
(Customised Cabinet colour and silkscreen logo printing option)
(In Development) CIRCLE KLEAN - with branding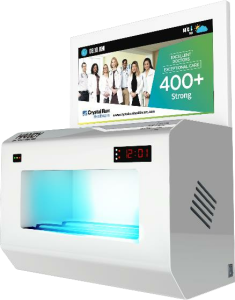 HANDY BOX 314N with 14'' Tablet
Wall mounting / Desktop
Base Unit Dimensions:
W 412mm x 240mm x 182mm